EMT,EMT Basic,EMT Intermediate,EMT Paramedic courses available online
Attention Active Duty
Military (including activated Guardsmen and Reservists) and DoD Employees and
their spouses!!! Percom has funding options that may pay for the cost of your course!!
Click on the calendar above to view Hands on Skills training dates, Deadlines, Office closings and Events.
Website support services provided by
EMT Intermediate and Paramedic Clinical and Field Rotations are currently offered through a Cooperative Agreement with Tyler Junior College (TJC) based in Tyler, Texas. TJC strives to offer clinical and field sites in various areas throughout the state. However, some travel may be required to attend an approved site. Registration for this portion of the course is separate from registration for the online didactic training. Students will register and pay for this required portion of the training at the end of the online portion of the course.
Students in the EMT Intermediate / Paramedic 1 Online Course are required to register for one Clinical Practicum. Students in the Paramedic 2 Online Class are required to register for four Clinical Practicums. Students in the Combined Paramedic 1 and Paramedic 2 course are required to enroll in 5 Clinical Practicums

Prices for the Clinical Practicums are currently approximately $200 (prices subject to change without notice) per Practicum and are set by the Tyler Junior College. Information regarding registration will be made available to PERCOM students who have completed all didactic portions of the course and have RSVP'd for an upcoming Final Testing Session.
Students should expect other expenses for clinical and field rotations beyond registration to include Criminal History Assessment, Urine Drug Screen, TB test, Hepatitis B and other immunzations if needed, malpractice insurance, and uniforms. Other items may be required by individual programs. These costs vary by program.
Students will not begin rotations until after successfully completing the minimun online coursework for their course level and have attended the required skills session/sessions. All Students must demonstrate minimum entry-level competence in skills prior to patient contact.
Tyler Junior College may be able to convert your credit to college credit if you choose to pursue a degree with their school at a later date. Click on the TJC's logo below to view pricing and contact information .
Click on the Picture to order our Recommended First Responder / EMT-Basic Textbook
Click on the picture above to purchase our recommended EMT Intermediate / EMT Paramedic Textbook
Click on the picture above to order our recommended Anatomy and Physiology Textbook.
Click on the picture above to purchase our recommended EMS Instructor Textbook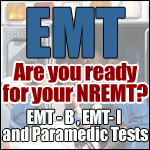 Click on the picture above for our recommended Interactive National Registry Test Prep.
Comprehensive Online Paramedic Review. Excellent for Prepping for the National Registry Exam
CLICK ON BUTTON ABOVE TO ORDER!!